Health First Colorado Member Newsletter Issue 1, September 2016
By Debbie Fimple / September 15, 2016 /
Newsletter
This newsletter, published in the months of March, June, September and December, will provide updates about Health First Colorado and tips for using your coverage to stay healthy. Click here to subscribe.
In this newsletter 
Message from Michelle Miller, Chief Nursing Officer
Dear member,
My name is Michelle Miller and I am the Chief Nursing Officer at the Department of Health Care Policy & Financing. The Department is responsible for running Health First Colorado (Colorado's Medicaid Program) and Child Health Plan Plus (CHP+).
Thank you for signing up for this newsletter! It will help you learn about your Health First Colorado benefits and give you tips on how to keep you and your family healthy. For example, this quarter's newsletter introduces you to Colorado Medicaid's new name, Health First Colorado, and explains some benefits you might not know about.
I know it is important to be able to find answers to your Health First Colorado questions so you can make the best health care decisions for you and your family.
Here are some helpful hints:
I want to support you in understanding your Health First Colorado benefits so you and your family can stay healthy. At Health First Colorado we put your health first!
Sincerely,
Michelle Miller
Chief Nursing Officer
Medicaid has a new name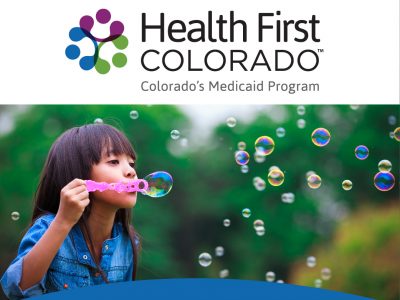 Medicaid is now called Health First Colorado! But don't worry! Your eligibility, benefits and choice of providers have not changed. Your coverage and health plan are not changing. You do not need to re-apply to keep your coverage.
The Health First Colorado rename has been made possible through generous grants from the Colorado Health Foundation and Caring for Colorado Foundation.
Did You Know: Your Health First Colorado plan covers your body, mind… and mouth!

You might already know your Health First Colorado benefits allow you to see your doctor when you are sick or injured (up to $2 co-pay), provide care and services for pregnant women and that your co-pay for prescriptions is much lower than the cost you would pay if you did not have coverage, but there's even more to your health plan! To be a healthy person, it is important that all aspects of your health are cared for and that's why Health First Colorado provides more than only physical benefits.
Health First Colorado covers behavioral health benefits. These services treat mental health issues and substance use disorders, such as depression or alcoholism. Behavioral health benefits are covered because they are important for overall health. What's more, there are no co-pays! All it takes to start accessing your benefits is a phone call to your local Behavioral Health Organization. Find yours and call them today!
Video: Health First Colorado behavioral health benefits
You also have dental benefits as a Health First Colorado member. If you have not been to the dentist recently you should visit the DentaQuest site, where you can find a dentist that accepts Health First Colorado. As a Health First Colorado member, you can receive dental services like cleanings, fillings, root canals, crowns and more (up to $1,000 from July to June) with no co-pay. For more information on what is covered, contact DentaQuest.
Health First Colorado is your partner in putting your health first. To learn about all of the benefits you have as a member, visit us at HealthFirstColorado.com.
A Family Health Coordinator can help you find services for your family

A benefit is not a benefit unless you know how to use it! Health First Colorado understands this, so members have the option to use the services of our Healthy Communities program. More than 100 Family Health Coordinators work with newly enrolled children and pregnant women to explain their Health First Colorado benefits, help them find a local provider to serve as their medical home and connect them to local resource such as child care assistance or providers and medical transportation and much more! These Family Health Coordinators can be found in every Colorado county.
It is easy to find a local Family Health Coordinator. Get to know your local Family Health Coordinator and learn how you can get the most benefit from your Health First Colorado coverage!
Join a Member Advisory Council
The Department's goal is that all employees, providers and embers and their families experience person-centered policies, practices and partnerships that respect and value individual preferences, strengths and contributions. Two member-only Advisory Councils have been created to provide the Department with a better understanding of how to achieve this goal by proactively offering feedback and recommendations on business practices, policies and partnerships.
Please consider applying to one of the Person- and Family-Centeredness Advisory Councils. Go here to learn more or apply.
Nurse Advice Line

As a member of Health First Colorado, you can call the Nurse Advice Line for 24 hours a day, 7 days a week for free medical information and advice! Learn more about the Nurse Advice Line.
Phone Book
Are you ready to take the next step in utilizing your Health First Colorado benefits? Here are some phone numbers you can call to get more help.
Behavioral Health Organizations
To access your mental health and substance abuse benefits, all you have to do is call your Behavioral Health Organization (BHO). Please note: You can also use the services of Colorado Crisis Services by calling 1-844-493-TALK(8255) or texting TALK to 38255*.
If you live in…
Your BHO is…
Denver, Cheyenne, Elbert, Kit Carson, Larimer, Lincoln, Logan, Morgan, Philips, Sedgwick, Washington, Weld or Yuma County
Access Behavioral Care

(303) 751-9030

TTY: (720) 744-5126

Adams, Arapahoe or Douglas County
Behavioral Healthcare Inc.

(303) 361-8100 or (844) 818-2485 toll free

TTY: (844) 528-0372

Alamosa, Archuleta, Baca, Bent, Chaffee, Conejos, Costilla, Crowley, Custer, Delta, Dolores, Eagle, El Paso, Fremont, Garfield, Grand, Gunnison, Hinsdale, Huerfano, Jackson, Kiowa, Lake, La Plata, Las Animas, Mesa, Mineral, Moffat, Montezuma, Montrose, Ouray, Otero, Park, Pitkin, Prowers, Pueblo, Rio Blanco, Rio Grande, Routt, Saguache, San Juan, San Miguel, Summit or Teller County
Colorado Health Partnerships

(800) 804-5008 toll free TTY: (719) 540-5590

Boulder, Broomfield, Clear Creek, Gilpin or Jefferson County
Foothills Behavioral Health Partners

(303) 432-5950 TTY: (303) 432-5960
Dentaquest
Dentaquest administers dental benefits for Health First Colorado members. If you need help finding a dentist who will accept Health First Colorado, call Dentaquest. 1-855-225-1729 TTY: 711 Website
Other contacts
For more information about your general Health First Colorado benefits or any other questions, you can find an assistance site that is near you, read about your benefits on our website or call the Health First Colorado Member Contact Center at 1-800-221-3943.
More Topics